Overview
Conference sponsors


ICAA Conference 2015: Embrace the possibilities
November 19-21, 2015
Ernest Morial Convention Center, New Orleans, LA
#icaaneworleans
Click here to download map of Educational Zone.
Embrace the transformation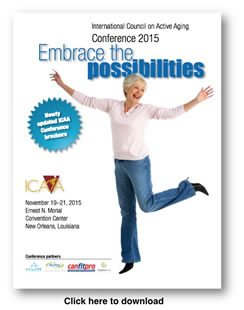 Life at every stage presents us with challenges and possibilities. Where we focus will influence how we live. So it is with aging today. As individuals, professionals, organizations and societies, we can choose whether to embrace the possibilities of aging or to focus on the challenges.
Embracing possibilities doesn't mean ignoring challenges. In fact, to maximize the possibilities of aging, we must strive to minimize its challenges. As the Reverend Billy Graham said, "The best way to meet the challenges of old age is to prepare for them now, before they arrive."
Physical inactivity, for example, is a significant challenge. For far too many adults 50 years of age or older, life contains little physical activity, raising the risk for health, cognitive and functional declines, early retirement from the workforce, limited involvement in the community, and poorer overall quality of life. Active older adults, on the other hand, lower their risks for health, functional and cognitive declines, and are able to work longer and stay involved in community life. The end result is often better quality of life.
By responding to both the possibilities and challenges of aging, we will ensure—at all levels—an environment transformed by the benefits of active aging.
In 2015, the International Council on Active Aging® (ICAA) brings you, and your active-aging colleagues, a conference designed to advance your knowledge and help you embrace the possibilities for your clients, your organization and yourself.
Embrace the experience
The ICAA Conference 2015 offers a dynamic educational and networking experience for professionals with a unique focus—older-adult quality of life. Created with ICAA member input, this year's educational program features more than 60 lectures and workshops to inspire you and your team and expand your horizons.
Learn from industry leaders and experts in sessions that:
• target different roles, settings and solutions in active aging—from program development to program delivery, partnership to leadership, marketing to management, and beyond
• explore special focus areas—for example, supporting wellness and physical activity in people with cognitive decline, movement disorders or chronic pain
• offer creative takes on established approaches—such as walking programs that include meditation, brain games, strength training or walking poles, or several of these elements combined
The ICAA Conference offers a wealth of educational opportunities on key topics in the industry, plus additional programming to enhance your learning. You'll want to stay until the very end!
Connect with colleagues who embrace the possibilities of aging. ICAA's multilevel conference attracts like-minded professionals—including conference faculty, exhibitors and volunteer staff—who are devoted to the well-being of older adults. This warm environment fosters camaraderie across the active-aging spectrum and supports informal learning.
Grow your knowledge and resources to support your role in promoting quality of life for older adults. At the ICAA Conference, you'll gain the ideas, research, best practices, case studies, and practical tools and methods to develop or refresh your practices, programs and environments. Tailor your experience to support your organization's needs and aspirations, plus expand the possibilities in your career. You'll also build your professional network.
Active aging promotes living as fully and actively as possible in all areas of life and at any age, regardless of health conditions. You encourage your clients to learn, connect and grow. Now it's your turn.
Revitalize your passion: Learn, connect and grow at the ICAA Conference 2015. Join us in embracing the possibilities.
Who should attend?
Wellness directors
Program directors
Activities directors
Executive directors
Administrators
Board members
Sales and marketing personnel
Developers and architects
Resident life executives
Fitness instructors
Personal trainers
Health educators
Social workers
Chaplains
Physicians
Nutritionists/dietitians
Therapists
Researchers
Professors
Conference sponsors