Overview
ICAA Conference 2016
November 17-19, 2016
Orange County Convention Center, Orlando, FL
Click here to download map of Education Zone

Reimagine active aging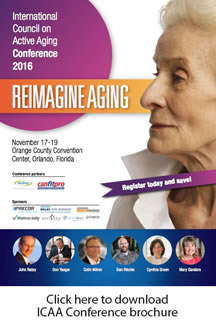 How we think about aging is changing. From governments and organizations, to family groups and individuals, our concepts of aging are shifting along with a 50+ population that now embraces the eldest members of Generation X through the centenarians of the Great- est Generation. It's an incredibly diverse demographic that reveals just how individually we age. And because there are not only so many more older people today, but also so many who are living longer, healthier lives, population aging is challenging dated ideas about what it means to grow old.
Since its launch almost 15 years' ago, the International Council on Active Aging® (ICAA) has brought together an industry—and a community—of forward-thinkers on aging who are passionate promoters of quality of life. This active-aging industry is in the vanguard of changing the way we age.
As a community, we embrace aging and support lifestyles that provide a foundation for living well, so individuals enjoy healthier, more vibrant and fulfilling years throughout the life span. The focus is on what people can do and their continuing potential to learn, grow and contribute.
The Age Wave will sweep away antiquated notions of aging as it ripples throughout society. Our industry is well-positioned to play an integral role as leaders and experts in older-adult well-being and potential. Where do we go from here?
Now is the time to reimagine aging. The annual ICAA Conference is the perfect place to do so.
An energizing experience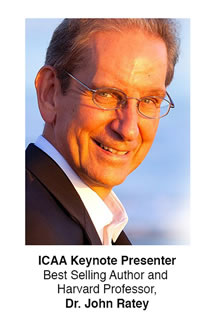 The ICAA Conference 2016 brings together professionals from across the active-aging spectrum for a powerhouse experience to move the industry for- ward. As an attendee, you'll learn and connect with colleagues, as well as industry leaders and active-aging experts, in an environment that stimulates and supports growth. Time and again, those who attend ICAA's annual conference emphasize the value of mixing with others who share not only their interests, but also their enthusiasm for older-adult wellness. Individuals say they return to work feeling energized and renewed.
Featuring lectures, panels, workshops, roundtables, and a keynote to inspire you, the conference's educational program targets topics and solutions that ICAA members consider important. The program also embraces the industry's different roles—from program development to program delivery, marketing to management, partnership to leadership.
Attendees turn to their expanded net- work and conference information to update or start new programs, and apply trends to their individual settings. They also learn about products and services at the accompanying expo.
Come to the ICAA Conference 2016, and leave with ideas, approaches, programs and tools that will help your organization stay ahead and reimagine aging
"I always find the ICAA Conference to be inspiring and energizing. There are cutting-edge presentations for our industry and very creative ideas exchanged."

Muriel Brunger, Administrator of Community Life, Presbyterian Homes
Who should attend?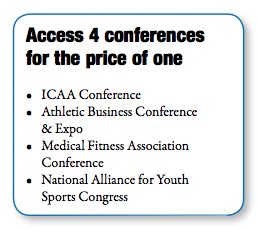 Wellness directors
Program directors
Activities directors
Executive directors
Administrators
Board members
Sales and marketing personnel
Developers and architects
Resident life executives
Fitness instructors
Personal trainers
Health educators
Social workers
Chaplains
Physicians Nutritionists/dietitians
Therapists
Researchers
Professors