June is Wound Healing Awareness Month: A time for increased understanding and nutrition action
As you work with older adults across care settings or at home, you have likely seen the impact of wounds that won't heal. While about 2% of the general population has chronic, nonhealing wounds, nearly 15% (8.2 million) of Medicare beneficiaries have at least one type of wound or wound-related infection.
The American Board of Wound Management (ABWM) Foundation has named June as Wound Healing Awareness Month to help bring attention to the challenges of chronic wounds and provide more information about addressing those challenges, including the importance of nutrition.
Wounds develop in a number of ways, including from surgery, trauma, or pressure injuries. Chronic, nonhealing wounds do not respond to initial treatment and do not heal in the expected time frame (usually within 30 days). In the US, chronic, nonhealing wounds cost Medicare $28.1 to $96.8 billion annually. Open, unhealed wounds raise the risk of infection and additional complications, including loss of limbs, increased costs of care and mortality and decreased quality of life.
Who is at highest risk?
Chronic, nonhealing wounds typically occur in individuals with more complex medical needs and those with multiple comorbidities, particularly diabetes and obesity. Older adults are also at increased risk. Among Medicare beneficiaries, the highest costs for chronic, nonhealing wounds are for those related to surgical wounds and diabetic foot ulcers. Wounds can "stall" in the healing process for many reasons, including restricted blood flow, immunosuppressive drugs, poor mobility and poor nutrition. While some of these risk factors may be difficult to overcome, poor nutrition can be improved.
The role of targeted nutrition
A good diet with adequate protein, calories, micronutrients and fluid is essential for all stages of wound healing. But sometimes a normal diet alone is not sufficient and a person needs to follow a more targeted nutrition plan to boost the wound healing process.
Some critical ingredients have been shown to be beneficial in a targeted wound care nutrition product.
Arginine: this essential amino acid helps increase blood flow and oxygen to the wound. It is also a building block for proteins, which can contribute to wound healing.
Glutamine: this essential amino acid serves many functions, including stimulating collagen production (a key protein for wound healing), regulating nitrogen metabolism for adequate protein formation and supporting immune system health.
HMB: also known as beta-hydroxy-beta-methylbutyrate, HMB comes from the amino acid leucine. It helps to produce new tissue by slowing down muscle breakdown and stabilizing cell membranes.
Vitamins C, E, B12 and Zinc: these micronutrients are particularly important for the wound healing process.
Policy implications
Chronic wounds can impact hospital readmissions, and the Medicare expenditures for chronic wound care are significant. Thus, it is not surprising that many of the Centers for Medicare & Medicaid Services (CMS) value-based programs and quality measures are related to wound care. (See Table 1).
Table 1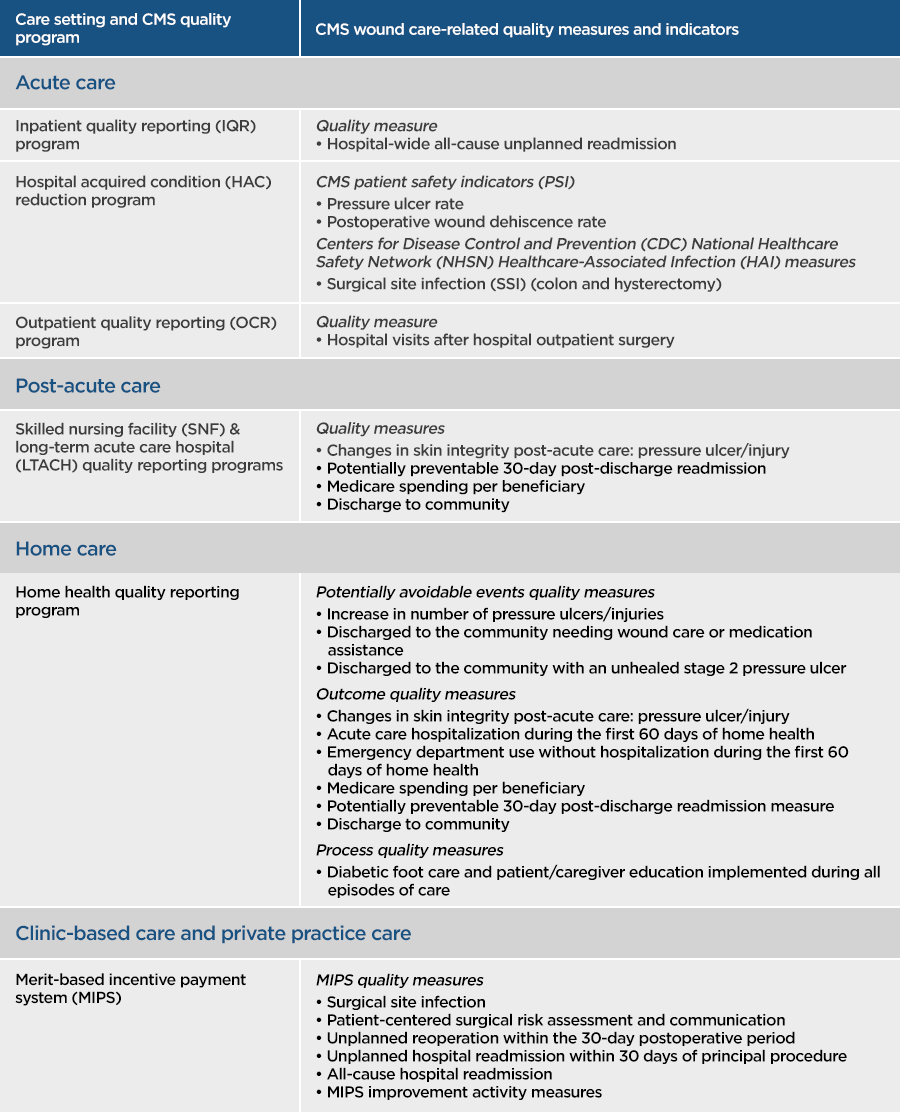 Increasing awareness and taking action
In this month chosen to raise awareness of wound healing issues, it is important to recognize the challenges experienced by people whose lives are affected by chronic wounds and to increase awareness about the support that can be supplied by certified wound specialists.
It is also a good time to reinforce the role of good nutrition in stimulating healing. Integrating targeted nutrition into clinical wound care protocols may help improve outcomes for CMS quality programs and measures. Better wound care can benefit both older adults and care facilities and promote greater opportunities for active aging.
Jeffrey Nelson, PhD
Associate research fellow, Abbott Nutrition, Division of Abbott Laboratories
Sue Drawert, MEd, RDN
Director, government affairs, Abbott Laboratories
Resources
Nutrition and Wound Care: Why It Matters for Value-Based Healthcare ANHI webinar.
Litchford, M., & Drawert, S. (November, 2020).
Journal of Active Aging, 18(1)
Richards, J., Litchford, M., Pittman, J. (January/February 2019). Nutrition to Aid Wound Healing in the Aging Adult.
Note: This information is not intended to replace a one-on-one relationship with a qualified healthcare professional and is not intended as medical advice. It is intended as a sharing of knowledge and information from research. The view expressed here are not necessarily those of the ICAA, we encourage you to make your own health and business decisions based upon your research and in partnership with a qualified professional.
Share