ICAA Forums: forging the future of active aging.
ICAA meets face-to-face, twice a year, with key industry leaders to discuss industry needs and to brainstorm solutions.
ICAA Forums began in 2005 as a way recruit the best and the brightest from both private and public sectors to discuss mutual challenges, forge connections and promote understanding around the common goal of improving health and quality of life as people age.
In open discussion and in breakout groups, delegates and event partners identify issues and brainstorm solutions. The projects they recommend reflect the following four principles:
1. Actionable – Actions can be taken to implement the recommendation;
2. Feasible – The delegates and ICAA have the resources to implement the recommendation;
3. Practical – The recommendation can be used by professionals and organizations;
4. Universal – The recommendation will apply to many organizations, for the betterment of all.
As a think tank of thought leaders representing many organizations, the issues and ideas generated during the ICAA Forum are the first step in identifying actions that can be taken to enable the active-aging industry to best serve the well-being of their current and future clients.
ICAA Industry work flow
The ICAA approach is to identify issues and possible actions at the ICAA Forum. Next, recommendations are commented on by the association;s advisory boards, and ICAA's staff evaluate the input in relation to ICAA's mission and available resources. Once a topic area is priori- tized, work group(s) are formed, often including ICAA Forum representa- tives and advisors. The results are then reported back to the ICAA Forum and disseminated to the industry.

Participants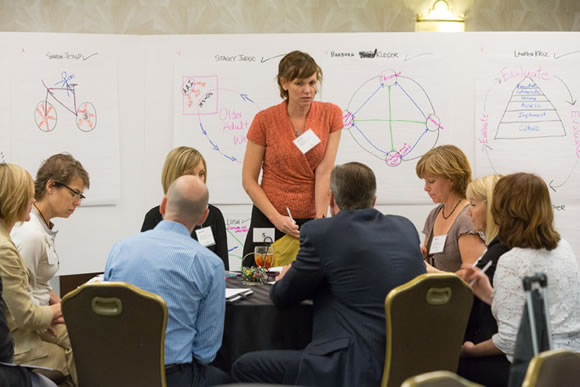 Lauren Kriz inspires her group to create a compelling strategy (photo gallery)
Invited organizations have demonstrated a belief in active aging and their ability to influence its direction on a large scale. Below is a partial list of organizations that have participated in ICAA Forums.

AARP • ACTS Retirement-Life Communities • ActiveRx • Aegis Therapies • Alliance Rehab • Americare Systems •Atria Senior Living • Benchmark Senior Living • Brightview Senior Living / Shelter Group • Brookdale Senior Living • Christian Homes • Charles E. Smith Life Communities • Consecra Housing Network • Corporate Fitness Works • Country Meadows Retirement Communities • Erickson Retirement Communities • Enlivant • Evangelical Homes of Michigan • Genesis Rehab Services • Good Samaritan • GoodLife Fitness • Health Care REIT • Healthways • Health Fitness Corporation • Heritage Healthcare LCS • Hebrew Homes • Highgate Senior Living • JCC of North America • Kisco Senior Living • Kleger Associates • L&T Health and Fitness • Liberty Lutheran • Life Care Services • Masterpiece Living • Merrill Gardens • Morrison Senior Living • National Council on Aging • NFC Amenity Management • Nifty after Fifty • Origin Retirement Communities • Parc Communities • Plus One Health Management Inc. • Presbyterian Homes • Presbyterian Senior Living • President's Council on Fitness, Sports & Nutrition • Prestige Care Inc • RehabCare Group Inc. • Senior Care Centers • Senior Lifestyle Corporation • Select Medical Rehabilitation Services • Springpoint Senior Living • Sunrise Senior Living • The Goodman Group • The Justus Companies • United HealthCare • US Administration on Aging • Validus Senior Living • WesleyLife • Westminster Communities of Florida • YMCA of the USA.