Member profile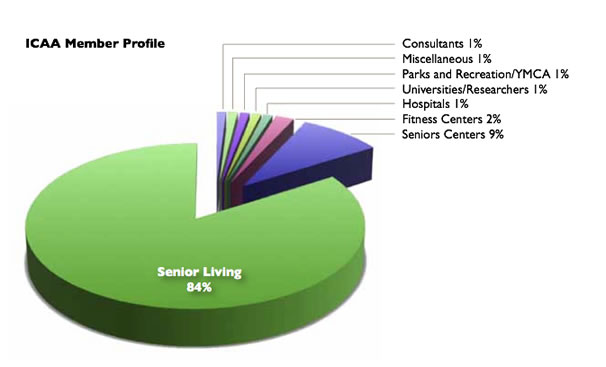 Your target is our membership – 10,000+ individuals and organizations forming the ICAA network. Together they connect you to retirement communities, active adult communities, assisted living communities, seniors centers, medical wellness centers, and many other wellness-related institutions. The dedicated professionals behind these facilities are mainly industry veterans – wellness and management professionals at the top of their field. They are also the savvy shoppers who choose what products and services their organizations need. Make sure your company is on their list.
• Full-time employees
• Average age 47
• University-educated
• 6 years in their current position
• 15 years in professional health and wellness
• 83.5% upper/middle management, owners, program directors their list.
• 17.5% researchers, personal trainers and health promotion professionals
• 55% not for profit organizations
• 90% wanting to try a product or service before purchasing it
• 88% preferring to deal with a sales representative who is knowledgeable about the needs of their organization and of older adults in general.