2013 press releases
Kick off Active Aging Week, feet first
Back to releases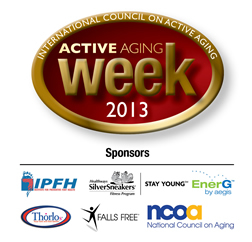 [Vancouver, BC. September 2013] On Sunday, September 22, 2013, thousands of people throughout North America will kick off this year's ICAA Active Aging Week celebration, a National Health Promotion Event organized by the International Council on Active Aging (ICAA).

"This year's theme, Discover Your Community, is sure to inspire many people to lace up their shoes- as they set out to explore their community" says ICAA CEO Colin Milner. "During Active Aging Week millions of steps will be taken by participants, whether individually, with a friend, or in a group," he adds. To ensure all participants start the week off on the right foot, ICAA, with the support of the Institute for Preventive Foot Health (IPFH), is providing tips and tools on how to take better care of the feet leading up to, and after the event.

"We are pleased to have this opportunity to support ICAA's 2013 Active Aging Week. What better way to 'discover your community' than by walking through it with friends and family," says Lynn Thorneberg, IPFH President and a member of ICAA's Industry Advisory Board.

"Our feet are the foundation of our mobility," adds IPFH Executive Director Robert (Bob) Thompson, CPed. "By ensuring good foot hygiene—a cornerstone of preventive foot health—people of all ages and fitness levels will be able to participate in Active Aging Week to the best of their ability." Here are five tips to get you started:

1. Wash and thoroughly dry your feet every day. Use mild soap, and wash between the toes. Be sure to dry thoroughly, especially between the toes.

2. Check the tops and bottoms of your feet, as well as your toes, between your toes and your toenails. Look and feel for bumps, lumps, blisters, bruises, cuts or sores. If you have any of these foot conditions, see a health professional for appropriate treatment and to avoid infection.

3. Trim toenails regularly (at least every two weeks). Cut them straight across, not on a curve, and file down sharp edges using an emery board.

4. Wear clean socks and change them at least daily—more frequently if you are active and/or your feet perspire heavily. IPFH suggests padded socks made of acrylic fibers or blends; these fabrics help move (or "wick") moisture away from the feet, reducing the chances of problems such as athlete's foot or blisters.

5. Wear properly selected and fitted, as part of an integrated approach, padded socks with shoes with non-slip outsoles and any inserts or orthotics prescribed or recommended by a doctor or foot health professional.

See IPFH.org for more preventive foot health tips.

"Foot health is underrated," says Milner. "We tend to ignore our feet until they hurt or we have other foot problems such as blisters. By following these tips, Active Aging Week participants and others are likely to feel better about being physically active.

ICAA and IPFH are also offering free access to a series of videos and handouts to help ensure that participants get the most out of their walking experience and are safe and comfortable as they walk. These videos can be accessed at http://icaa.cc/activeagingweek/aaw-public.htm.

Active Aging Week 2013 is sponsored by are EnerG by Aegis™, Healthways SilverSneakers® Fitness Program, THORLO, Institute for Preventive Foot Health, Falls Free, and NCOA

About Active Aging Week®
Active Aging Week is an annual event held the last full week of September (prior to October 1, International Day of Older Persons). The week was initiated by the International Council of Active Aging to give as many older adults as possible the means to experience activities and exercise in a safe, friendly and fun atmosphere. During the week, host organizations provide a variety of free activities, such as classes, educational seminars, access to fitness facilities, health fairs and community walks.

About the International Council on Active Aging (ICAA)
ICAA, a professional association that leads, connects and defines the active-aging industry, supports professionals who develop wellness facilities, programs and services for adults over 50. The association is focused on active aging?an approach to aging that helps older adults live life as fully as possible within all dimensions of wellness?and provides its members with education, information, resources and tools. As an active-aging educator and advocate, ICAA has advised numerous organizations and governmental bodies, including the US Administration on Aging, the National Institute on Aging (one of the US National Institutes of Health), the US Department of Health and Human Services, Canada?s Special Senate Committee on Aging, and the British Columbia ministries of Health, and Healthy Living and Sport.

For questions:
Contact: Colin Milner, CEO, ICAA
Toll-free: 1-866-335-9777 (North America)
Telephone: 604-734-4466; cell: 604-763-4595
colinmilner@icaa.cc