Journal on Active Aging
Fuel your success with the Journal on Active Aging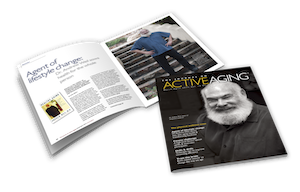 The Journal on Active Aging is the source most ICAA members turn to first for active-aging information. Editorial integrity and sound judgment make our flagship publication an indispensable tool that professionals use to connect with the global vision of active aging As well as everyday practical skills for promoting quality of life among older adults.

Each issue is an engaging read for all segments of the active-aging industry: provider and supplier, CEO and instructor, researcher and manager. That's because the Journal on Active Aging sweeps across the broad landscape of management and operations, marketing and communications, promotions and sales, programming, research, policy, and profiles of successful programs.
The Journal on Active Aging is a benefit of ICAA membership. To learn more about joining ICAA, click here
To request one-time access to a sample online issue email info@icaa.cc
Writers guidelines
Do you have a success story to share, or an academic discipline that has pertinent information for working with older adults? ICAA's Journal on Active Aging is authored by qualified industry professionals. The editors are always interested in learning about new article ideas and new contributors.